Though Switzerland is the home of muesli and cheese fondue, it does not boast many traditional and typically Swiss vegetarian dishes. Those it does have, however, are extremely tasty.
For example, Älplermagronen, which is like macaroni and cheese only better, or Striflates, which is fried crêpe dough with custard, pumpkin rösti, and roasted bread soup.
Älplermagronen with apple purée is a treat to eat with friends on a cold winter evening. In the olden days it was made in a big pot over an open fire at the end of a hard day's work herding cattle up on the Alpine meadows. It is not a dish for the calorie-conscious.
I first ate it at Kiosk, a charming restaurant on Seefeldquai in Zurich that is right beside the lake. And between April and September you can get fantastic ice cream just a short walk to the south at the Gelati am See stand at Hafen Riesbach.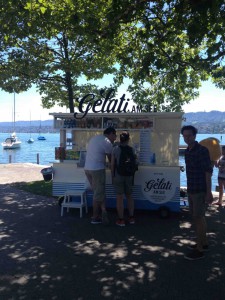 Between October and March you can head for delicious cupcakes and a decent cappuccino at the cosy café The Corner, Universitätsstrasse 9, or an expensive afternoon apérol at the stylish Grand Cafè Motta, Limmatquai 66.